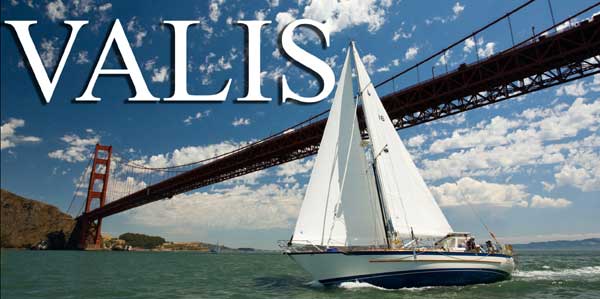 VALIS is a Pacific Seacraft 44, hull #16, built in the year 2002 by Pacific Seacraft in Fullerton, California.
She was designed by Bill Crealock.
VALIS is cutter-rigged, and is designed for blue-water sailing. Her owner is Paul Elliott, and her home port is Sausalito, California, on the San Francisco Bay.
---


VALIS will be racing in the Pacific Cup!
This continues our unbroken Pac Cup streak: 2006, 2008, 2010, and now 2012.
As we were in '08 and '10, VALIS will again be the Communications Vessel for the race.

Here are some Pac Cup links:

---

During our 2008 return from Hawaii, VALIS had a very close encounter with a humpback. Here's some video: